I wanted to try something a little different with the way I presented which products I used to achieve the look of the day. I am a very visual person and thought it would be a neat idea to make a collage of all the products used to create the look. Being a big fan of design and inspiration boards, I would like to think of this collage as an inspiration board in itself.
The look I created today was fun, sexy, and sultry. I usually don't plan the eye makeup I will be doing, and I like to see where my creativity, and the colors take me. Today's look speaks for itself!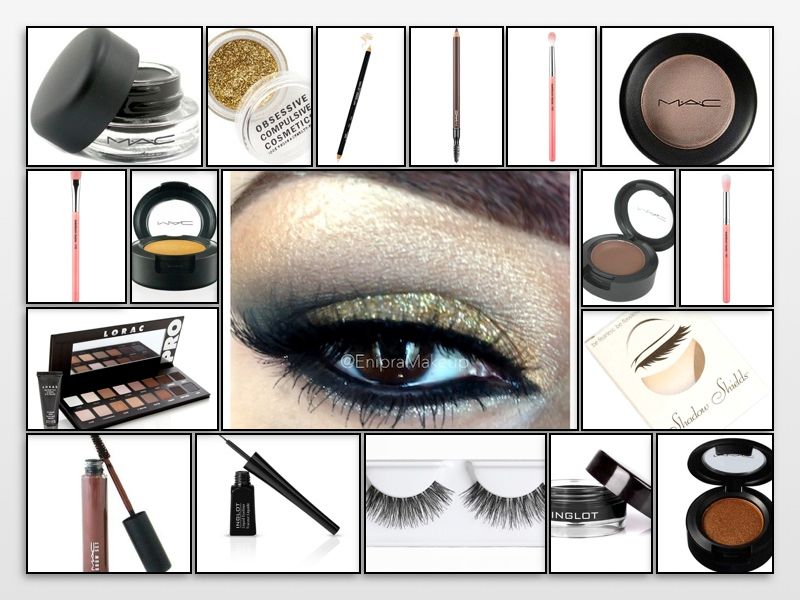 Products used:
1. Base: Bobbi Brown Metallic e/s Gold Dust
2. Lid: Lorac Cosmetics Pro Palette e/s Gold and MAC e/s Goldmine and Obsessive Compulsive Cosmetics Glitter in Gold
3. Outer V: Lorac Pro Palette e/s Esspresso, Black and MAC e/s Romp
4. Crease: Lorac Pro Palette e/s Taupe and MAC e/s Wedge
5. Eyebrows: Lined with MAC Deep Brunette Veluxe Brow Liner and set with MAC Brow Gel in Show-Off
6. Highlighter: Makeup Forever Concealer Pencil in N100 and Lorac Pro e/s Lt. Bronze and Gold Dust
7. Liner: MAC Gel Liner in Blacktrack and Inglot #77
8. Eyelashes: House of Lashes "Temptress" doubled
9. Lower Lash Line:
Lorac Pro e/s Black and Espresso and Inglot Liquid Silver Eyeliner #27
I used my favorite Bdellium Tools brushes in #787, #778 and #785. Also, I used my new obsession,
Shadow Shields
(click on name to be taken directly to website) to minimize the cleanup under the eyes. I highly recommend this amazing product for anyone who likes to wear a dark eye and wants to minimize any fall out!
xx